WebKOBIS ERP3 Business Management Systems
WebKOBIS ERP3 is a WEB based ERP system as a cloud service that covers all business, especially production processes for small to large-sized companies as a Scalable SME Software or Integrated Corporate Solution.
As a low cost, hire as  All-In-One ERP or  Extend-On-Demand system WebKOBIS ERP3 comes in TRADE, CRM (Customer Relations Management), ERP (Enterprise Resource Management), MRP (Material Resource Planning), SMS (Strategic Management), PMS (ProjectManagement), QMS (Quality Management), DMS (Document Management), DAM (Digital Asset Management), PAM (Physical Asset Management), LMS (Logistic Managemtn), WSH (Work Safety and Healt Management), CMS (Client Management System ), HRM (Human Resource Management), TMS (Training Management System) package editions which are providing over 35 main, over 75 integrated management modules for your business.
WebKOBIS ERP3' simple to use design, extensive database allows you to capture more details than most similar software would capture for your business.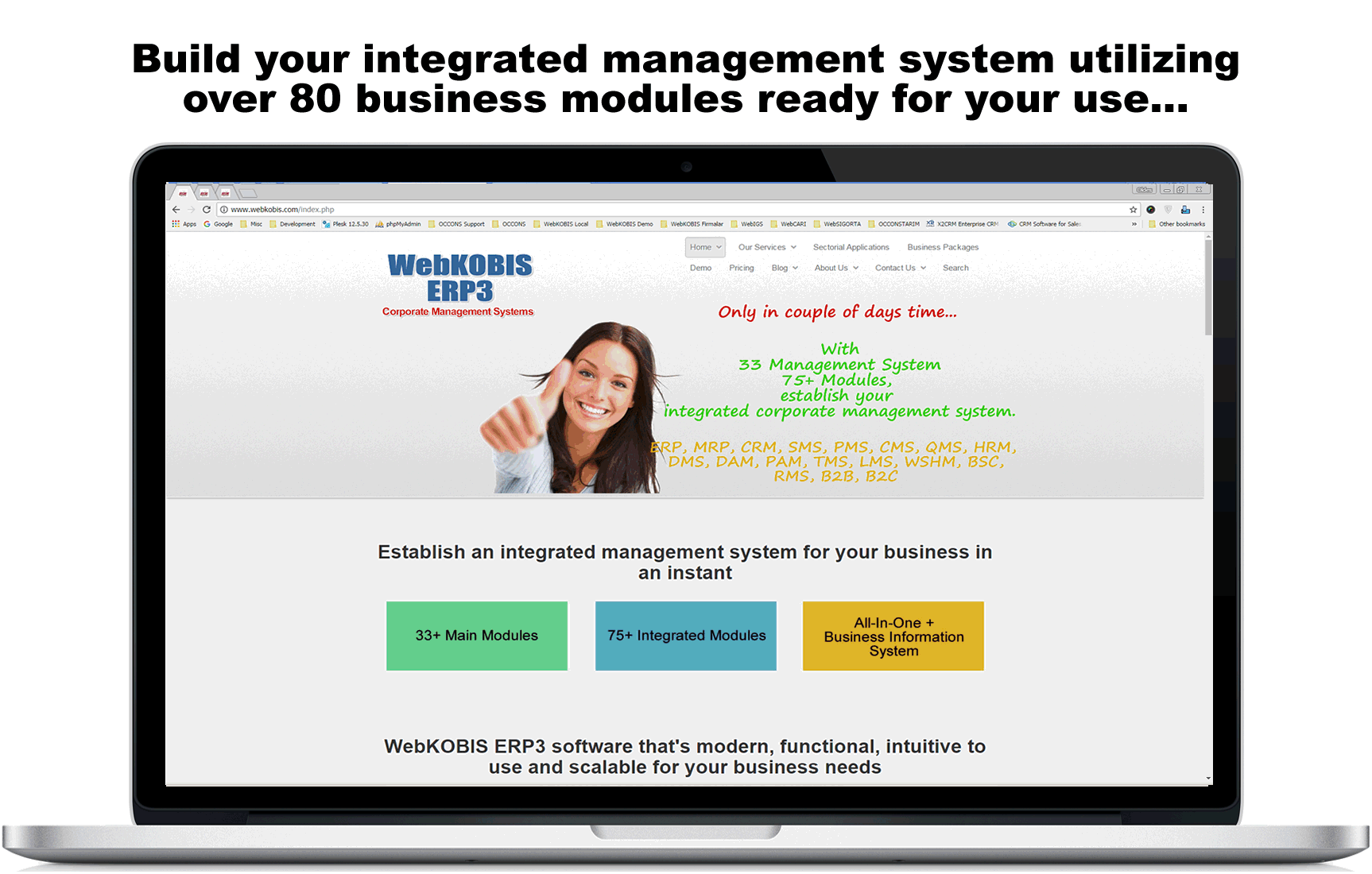 ADVANTAGES:
Based on low cost web based proven technologies therefore effort-able for most businesses.
Integrate Advance Activity-Based Production, Process-Based Quality Assurance Support, Design Tracking, Sales & Marketing and other operational activities in one system easily.
Control your connections and operations in an integrated & centralized framework.
Upscale WebKOBIS ERP3 as easy as turning your light switch on according to your needs from TRADE to CRM or from TRADE to ERP or from CRM to ERP edition.
WebKOBIS ERP3 SaaS licence you save money from expensive hardware, software and backup support. WebKOBIS ERP3 will be ready for you anytime you need.
WebKOBIS ERP3' standard editions can be expanded for specialized systems with additional Optional Modules according to your needs.
WebKOBIS ERP3' Optional B2B modules provide quick and specialized solutions for your B2B needs without changing your core WebKOBIS ERP3 application. Utilizing WebKOBIS ERP3 B2B modules you can establish Customer or Vendor online service systems quickly as well as Mobile access portals for your field personnel..
With WebKOBIS ERP3 you don't have to do long term contracts. Accounts are annual & you pay as long as you use. However you can get WebKOBIS ERP3 benefits for your long term contract requests. 
Your data is yours. If you decide to end your WebKOBIS ERP3 account, your database will be delivered to you. In fact you can download your data whenever you want.
WebKOBIS ERP3 centralize and integrates your all activities such as Production, Procurement, Sales and Quality Assurance assuring simultaneous awareness between related departments and users.
WebKOBIS ERP3 allows you to create customized dashboards as many as you need using already defined charts. This allows you to focus to your area of interest.
WebKOBIS ERP3' role/group based user access security system allows you to control knowledge security more effectively.
WebKOBIS ERP3' dynamic filtering and Advance Search ability gives you to search on all fields in your database allowing you to do dynamic analysis of your data. 
All Reports and Graphics in WebKOBIS ERP3 allows you filter and search data so you can dynamically analyse your data.
WebKOBIS ERP3 uses 8 important security mechanism. As an example you can define User/IP addresses to WebKOBIS ERP3 to limit their log in; even log in date & time. 
WebKOBIS ERP3 MAIN MODULES:
Agenda Management
Call Center Management 
Contact Management
Customer Management
Sales Management 
Orders Management 
Proposal Management 
Contract Management 
Competitor Firm Management 
Potential Sales
Product Management
Production Management 
Quality Management 
Activity Management
Stock Management
Logistic Management
Vendor Management
Procurement Management
Potential Procurement
Work Order Management
Financial Management
Expense Management
Payment Management
Asset Management
Vehicle  Management
Repair Management
Document Management
Training Management
Knowledge Base Management
Foreign Trade Management
Dashboards Management
WebKOBIS ERP3 Additional Modules:
Advance Production Planing & Management (WKB-UP)
Product Design & Sample Management (WKB-UT)
Product Casting & Sample Management (WKB-UD)
Business Planning & Project Management System (WKB-IP)
Human Resources Management  (WKB-IK)
Work Safety Management  (WKB-IG)
Business Intelligence Reporting System (WKB-RP)
phpMyAdmin integration 
WebKOBIS ERP3 Additional B2B Modules:
Production Tracking Portal (WKB-IT)
Customer/Partner B2B Portal (WKB-MP)
Vendor B2B Portal (WKB-TP)
Mobile Phone / Mobile Access Portal (WKB-CP)
Web Site Integration Module(WKB-WS)
Shopping Cart Integration (WKB-IM)
WebKOBIS ERP3 Financial System Gateway Modules:
More Details
WebKOBIS ERP3 ERP is an ERP cloud service that covers all business, especially production processes for small to large-sized companies.
WebKOBIS ERP3 SaaS LICENCE
Standard WebKOBIS ERP3 installation with optional modules purchased
Low cost SaaS licence with dedicated installation
Daily Data Backups
Project based customization for your business demand
WebKOBIS ERP3 GENERAL FEATURES
Windows-like Role based dynamic Menu
Over 525 List forms supporting Quick Data Links, Data filtering and Advance Searches 
Highly detailed database tables
Comprehensive 360 Business Logic
Role/Group base Access Management
400+ Analysis Charts with dynamic filtering
100+ Reports with dynamic filtering
Over 500 forms with dynamic filtering and detailed search for Dynamic Reporting 
User Definable Dashboards from Analysis Charts; 50+ standard Dashboards to analyze modules 
Over 140 User definable Notification Widgets 
Encrypted communication
Integrated firewall for user/IP and access date/time schedule
Integrated support for GoogleMaps
Integrated Gantt Charts and calendars
Export (.csv, .doc, .xls, .xml, .pdf)  
Add-On module support for better business integration
-Advance Production Tracking System
-Customer B2B System
-Vendor B2B System
-Mobile Personnel Access System
SALES AND CRM
Complete sales management
Call Center processing
Potentials Management
Pre-sales processing
One click converting process (Lead-Opportunity-Quotation-Invoice-Payment-Delivery)
Currency management engine for automatic currency conversion 
Tax Engine manages multiple tax types
Various payment terms
Customization notes 
Customer Returns
Competitor Management 
PURCHASING AND SUPPLIER MANAGEMENT
Accumulating various purchase order types from various processing engines
Manual or automatic purchase management according to business needs
Various payment types
Supplier returns
Various payment terms
Consignment management
PRODUCT MANAGEMENT & PRODUCTION
Standard Product Management Module depending on business demands
Standard Product Material Tree 
BOM/Component based production
Recurring production
Services
ADVANCE PRODUCTION
Advance Product & Production Management module depending on business demands
Multi-site, multi-line, solid or virtual assembly lines
Project management with Gantt chart
Product Variant Engine
Detailed activity based production with detailed process definitions  
BOM/Component based production
Activity based Production Tracking 
MRP Support
Production Needs
Recurring production
Time-managed production
Product Design Tracking
Product Sampling Tracking
Product Casting Tracking
QUALITY ASSURANCE
Quality Assurance Document (Plans, Forms, Specs)
Detailed activity-based process definitions
Process-QA Definitions links 
QA Test Plans & Tests
QA Activities Tracking
WORK ORDERS
Work Orders tracking,
Customer Services
Production
Quality Assurance Activity
Repair Services
Logistics
Procurement
Work Safety
Integrated Cost tracing 
DOCUMENT MANAGEMENT
Document Integration to various modules such as products, Financials, Quality Assurance, Sales etc
Upload as File or Upload In to Database options 
Archive Management
WAREHOUSE AND INVENTORY CONTROL
Real-time inventory
Easy tracking low stocks or stocks under Low-Level settings 
Document linking
Detailed product definitions (Images, SKU, bar-code, manual linking, categories, trademarks)
Internal deliveries
Multiple-warehouses
FINANCE AND ACCOUNTING
Payable and receivables, with real-time invoice support
Fixed Asset Management
Financial Dashboards, Reporting and Analytics
More than 100 standard reports
Payment Management
Document linking (invoice Send, supplier invoice received)
Payments Management
Expense  Management
BUSINESS PLANS & PROJECT PLANNING
Integrated Business Plans & Details to track high level & project level progress
Integrated Project Plans & Details  to Track all-around business activities 
Easy Project-based cost, Sales, procurement, payment, work order tracking  
BUSINESS INTELLIGENCE
Dynamic Reporting & Analyzing with Report Management Module 
400+ Analysis Charts with dynamic filtering
100+ Reports with dynamic filtering
Over 525 List forms supporting Quick Data Links, Data filtering and Advance Searches 
User Definable Dashboards from Analysis Charts; 50+ standard Dashboards to analyze modules 
Over 140 User definable Notification Widgets 
Export (.csv, .doc, .xls, .xml, .pdf)  
Quick Data Links 
Send emails 
Module Dashboard 
Role based reporting
HUMAN RESOURCES
Detailed Personnel records
Personnel Leaves, Reports
Roles, Work Assignments and Performance tracking 
Personnel Evaluations
Open roles & Applications management
Time sheet tracking
WORK, SAFETY & HEALTH
Integrated Work & Safety Module
Integrated Worker Health Module
Risc Tracking
360 Degree of Business Vision...
Highly integrated WebKOBIS ERP3 business modules provides all-around view of your business.
WebKOBIS ERP3 comes with integrated CRM system which allows you to focus Customer-Oriented activities as well as Production details...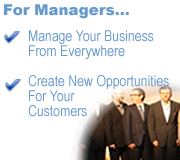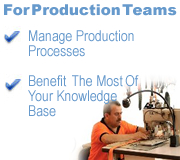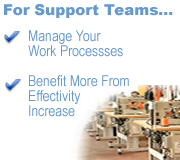 Advantages For Managers...
360 Degree Control of Your Business:
Low Cost Integrated Business Intelligence System...
Integrates Business Planning
Integrated Project Management
Sales Performance Tracking...
Opportunities Management...
Total Quality Management of your Business...
Comprehensive Business Knowledge Base...
Overall Process Tracking...
Integrated Intranet, Extranet, B2B and B2C Modules...
Advantages For Sales...
All-Integrated Sales Supporting Activities:
Integrated CRM System...
Proposals Tracking...
Potential Sales Tracking...
Orders Management...
Contact Calls History Tracking...
Competitor Tracking...
Knowledge Base...
Integrated ISO-10002 Customer Relations Management standard
WebKOBIS-CP, additional access portal for mobiles and notepads Sales Personnel.
Advantages For Support...
All-Integrated Knowledge-Base for Support Activities:
Integrated Customer Calls History Tracking...
Detailed Work Order Tracking...
Potential Sales Tracking...
Repair Management..
Document Management...
WebKOBIS-CP, additional access portal for mobiles and notepads Field Personnel.
Advantages For Production...
All-Integrated CRM, MRPII, ERP Activities:
Integrated Detailed Product Management...
Product Design Management for ISO 9001:2008 standard
Product Sample Management...
Detailed Production Order Tracking...
Total Quality Management...
WebKOBIS-ITS additional access portal for notepads to gather data online at Production Line...
Built-in & Custom Reports...
WebKOBIS provides very rich  Business Intelligence environment:
Over 40 built-in dynamic analysis & reports...
Over 400 dynamic list (screens) that allows cross reporting on all fields in the database,
WebKOBIS-RM, custom reports tool detailed analysis & reporting...
Advance Security Infrastructure...
WebKOBIS provides advance security mechanisms to protect your investment on the cloud. 
Separate Instance Installations, No Shared Code or database...
Unlimited User/Role Groups to Manage User Access Privilege...
Strict User Name/Password control...
Built in Firewall for User IP Tracking and User connection scheduling...
Field level User Access Auditing...
Technology & Database...
To minimize development and operational cost of our customers, WebKOBIS is developed with OpenSource development technologies; PHP development language and MySQL database.
Being the most commonly used internet technologies, PHP and MySQL pair reduces operational costs and allows Businesses to possibility of customization if needed...
However WebKOBIS database can be ported to other databases easily because it is designed and database independent for scalability.
WebKOBIS can easily runs on LAMP/WAMP (Linux/Windows, Apache, MySQL & PHP) environment without sophisticated and expensive "virtual machine" environments and  support teams.